Commercial Flood Insurance
At least 25 percent of businesses that close after events, like a flood, never reopen. Flood insurance is the best way to protect yourself from devastating financial loss. Find the flood risk for your business now using our One-Step Flood Risk Profile.

Flood insurance is available to homeowners, renters, condo owners/renters, and commercial owners/renters. Costs vary depending on how much insurance is purchased, what it covers, and the property's flood risk.

Coverage for your building and contents is available. Talk to our agent today about insuring your business and its contents. Typically, there's a 30-day waiting period from date of purchase before your policy goes into effect. That means now is the best time to buy flood insurance.

LS INSURANCE SERVICE can help you find the right Commercial Flood Insurance for your company. Give us a call to discuss your insurance needs (856) 489-3444.
Commercial Flood Insurance
Business Property Risk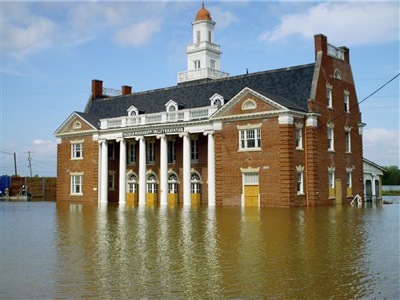 As a business owner, you know that protecting your building and your contents is vital to its survival. Your business is either in a high-risk or moderate-to-low risk area and insurance premiums vary accordingly.
Moderate-to-low Risk
Most commercial buildings in a moderate-to-low risk area qualify for coverage at a preferred rate. Preferred Risk Policy premiums are the lowest premiums available through the NFIP, offering building and contents coverage for one low price. You can also opt for Contents Only coverage, if you prefer. Premiums start as low as $641 per year for both Building and Contents, while Contents Only coverage starts as $183 per year. commercial coverage gives you up to $500,000 of insurance to protect your building and up to $500,000 to protect its contents. ** As of Jan. 1, 2013

If you don't qualify for a Preferred Risk Policy, a standard rated policy is still available. Even though flood insurance isn't federally required, anyone can be financially vulnerable to floods. People outside of high-risk areas file over $20 billion in NFIP claims and receive one-third of disaster assistance for flooding. When it's available, disaster assistance is typically a loan you must repay with interest.
High-Risk
If you live in a high-risk area, a standard rated policy is the only option for you. It offers separate building and contents coverage.

Flood insurance premiums are calculated based on factors such as:

• Year of building construction
• Building occupancy
• Number of floors
• The location of its contents
• Its flood risk (i.e. its flood zone)
• The location of the lowest floor in relation to the elevation requirement on the flood map (in newer building only)
• The deductible you choose and the amount of building and contents coverage

If your commercial property is in high-risk flood area and you have a mortgage from a federally regulated or insured lender, you are required to purchase a flood insurance policy.
Give us a call for a Flood commercial Quote. (856) 489-3444
We are certified with the Federal Flood Smart agency, higher limits are available from private insurance companies that we represent.
Or you can fill out our CONTACT Page. We will get back to you as soon as possible.
---